Kimberly's Gluten Free

Kitchen
At Kimberly's Gluten Free Kitchen, we live and breathe Gluten Free. You could say it's more than just a passion for us - and not just because we have been living a gluten free lifestyle for over 11 years. Our products and cooking/serving environment are 100% gluten free and nut free!
Our mission is to maintain a high quality product and continually improve our services by exceeding the expectations and needs of our customers. Kimberly's Gluten Free Kitchen, LLC is a 100 % gluten free environment focusing on non-GMO, locally sourced, and organic ingredients whenever possible.
In 2018, we decided it was time to launch our own business right here in North Conway, NH. We had so much fun this season serving up our creations to the folks in the Mount Washington Valley! We may be parked for the season, but don't you fret, we will be back in the spring.
You know what they say; "I can't believe it's not Gluten!!"
Let

us know your thoughts. Send us an email with your comments or questions.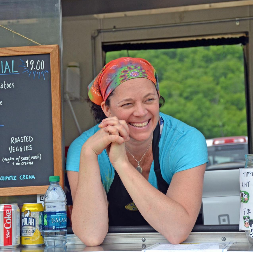 Kimberly Harvey, proprietor